Featuring a compact design, the Atomi Smart Heater can be controlled directly from the heater or via the Atomi Smart app. Monitor and manage the temperature in your home, set timers, or simply select the time of day you'd like to activate any of your Smart Heaters.
Maximum Power: 1500 W
Heater Power Settings: 750 W / 1500 W
Voltage: 120 VAC / 60 Hz
1. Remove tie from the power cord and unravel the cord. Keep plastic wrapping away from children.
2. Place the Smart Heater on the floor or mount it to the wall following the included User Guide instructions.
3. Know your Wi-Fi network and password
4. Make sure your mobile device is running iOS® 8 or higher or Android™ 4.1× or higher
5. Make sure you're connected to a 2.4GHz Wi-Fi network (Atomi Smart can't connect to 5GHz networks).
Step 1: Download App and create an account​
Download the Atomi Smart app from the App Store or Google Play and create an account. If you already have the app installed, please make sure to check for any updates as they will improve your experience with the Atomi Smart app.
1. Plug your Atomi Smart Heater into a 120VAC outlet. Make sure that the power switch at the back is ON before mounting it to the wall
2. Power on your Smart Heater (Power switch can be found at the back of the heater)
Note: This heater has a polarized plug as a safety feature to fit into a wall outlet one way to reduce the risk of electric shock.
Step 2: Adding Your Device
1. Confirm that the Wi-Fi indicator is flashing. If not, press and hold the Power button for 10s to reset
2. Once it's flashing, open the Atomi Smart app and select "Add Device" or click (+) at the top right corner of the screen.
3. Press 'Connect device' on the banner that appears. If the banner does not appear, select 'Smart Infrared Heater' from the device list (Add Manually)
4. Follow the on-screen instructions
Step 3: Connecting to Wi-Fi
1. Enter your Wi-Fi network (2.4 GHz only) and password
2. Press 'Continue' to complete the connection
Controlling your Smart Heater
Temperature Display – Displays current heater and room temperature.
Power – Turns the heater on and off.
Slider or (-)  (+) – Set to a specific temperature (ECO Mode only) from 60°F to 86°F (15°C to 30°C)
Mode – Press to change from LOW, HIGH and ECO Mode.
Countdown – Automatically powers heater ON or OFF based on a timer. (This is a one-time event. If you want to have more control of the time and days of the week that the heater will turn ON/OFF, use the 'Schedule' feature available at the Settings screen)
Settings – Additional heater settings such as LED Screen and Schedule.
Mode – Press to change from LOW, HIGH and ECO Mode.
Low: Heater will continuously run in low intensity
High: Heater will continuously run in high intensity
ECO: When you specify a custom temperature (example: 75°F), the heater starts the ECO Mode. This mode will stop blowing heat once it reaches your desired temperature. If the room temperature drops at least 3 degrees, the heater will start blowing heat again to reach your set temperature.
Sets a countdown to power on and off the Smart Heater
Screen:

Turns On and Off the Heater LCD screen
Set up weekly schedules to fit your lifestyle.
Time – Select the time to run the schedule
Repeat – Select what days of the week to repeat the schedule
Note – Adds a note/label to the schedule
Switch – Select to turn ON or OFF the light
Tip: You can create multiple schedules! This allows you to set specific time/days of the week to turn ON and other time/days to turn OFF
More information about Creating Schedules is available here
You can also use automations to create additional schedules. Click here to learn more.
Controlling multiple Heaters together

Create a scene and add heaters for simultaneous control.
Step 1: Starting from the Home Screen, select 'Smart Scenes' at the bottom navigation bar
Step 2: Select Trigger and press the '+' button
Step 3: Set the condition to "Trigger Button"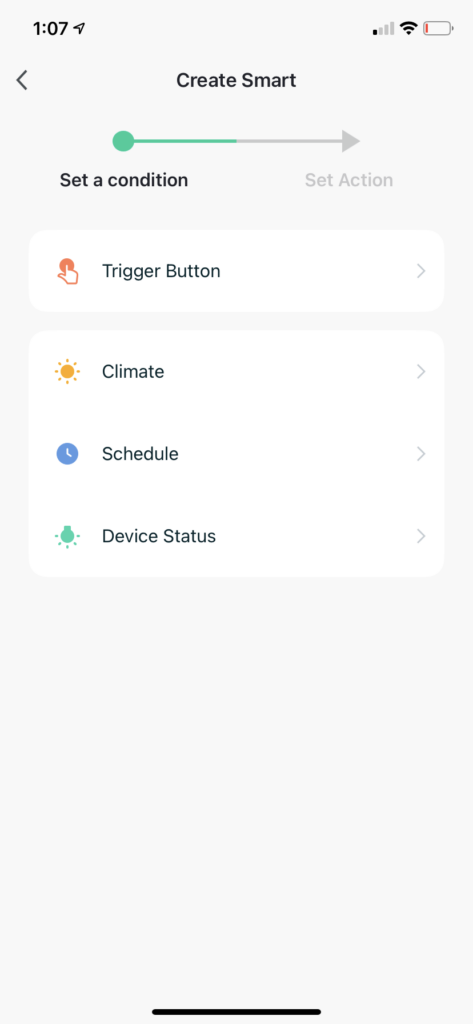 Step 4:
Select 'Execute Device Action' and choose the Smart Heater
Step 5:
Customize the functions based on your desire.
Example: Switch = ON, Set Temperature = 75 Press 'Continue'
Step 6:
Press the "+" button on the Action section, and repeat the process for your other heater(s)
Step 7:
Review your settings and add a name for your Trigger. Press 'Save'. You can now control your heaters together!
You now have a quick shortcut on your home screen. Just press the button and your heaters will turn on together at your desired temperature and settings. In addition, if you have Alexa or Google Assistant-enabled devices, just say "Alexa, start [name of your Trigger]" or "Hey Google, start [name of your Trigger]"
Alternatively, if you just want to have control to power ON/OFF your Heaters together, you can create a group on the Alexa or Google Home app and add both Heaters to the group. Then, just say: "Alexa, turn on/off [name of your Alexa Group]"  or "Hey Google, turn/off [name of your Google Assistant Group]"
You can also control your heater using the buttons located at the device's panel. The functions are synchronized to the Atomi smart app. 
Note: Make sure that the Wi-Fi button is ON to control your Smart Heater via the Atomi Smart app. If the indicator light is OFF, you will only be able to control it manually.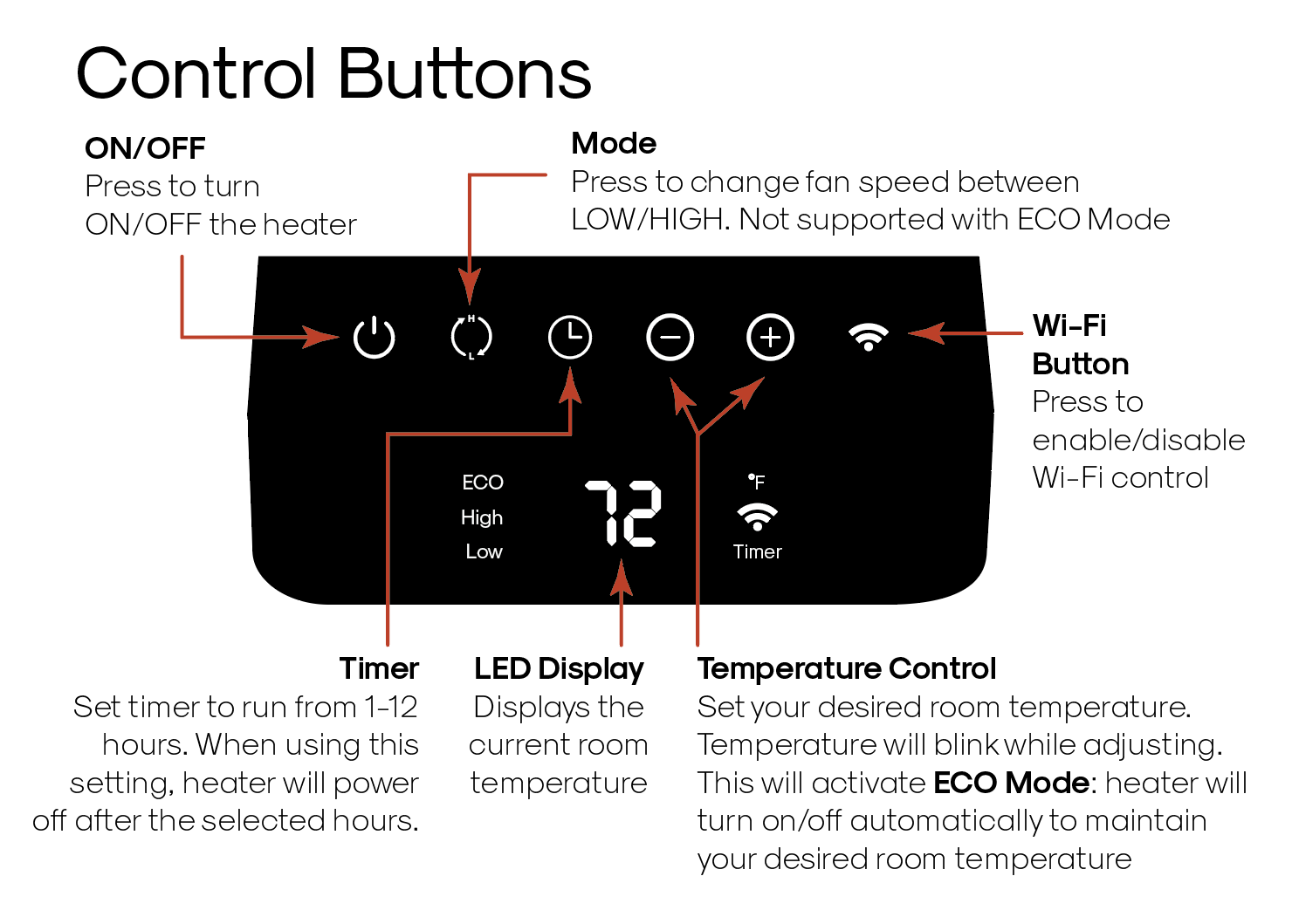 ON/OFF: Power On/Off the device. Press and hold 10s to reset the device (After power off, the fan will continue to work for 30s and then stop)


Timer: Set 1-12h countdown

H/L (High/Low): Change between High and Low Mode (Not supported with ECO Mode)

+/- : Increase/Decrease temperature – ECO Mode (green light) is activated when you manually set the temperature to a specific number)

WiFi: Press and hold 3s to turn on/off WiFi. Display Indicator shows the status of the device (Flashing = Pairing mode. ON = Available to be controlled with the app. OFF =  Not available to be controlled with the app).
CAUTION: Always be sure that the Smart Heater is switched OFF, unplugged and completely cooled before cleaning or attempting to store the item. DO NOT immerse Smart Heater in water or allow water to drip into the interior of the Smart Heater, as this could create an electric shock hazard. DO NOT use any detergents or abrasives.
1. Always turn off the Smart Heater and disconnect the cord from the electrical outlet before cleaning your heater.
2. Accumulated dust may be removed from the Smart Heater with a soft cloth or vacuum cleaner.
3. Ensure the air intakes are free and clear of dust or lint.
4. The removable particle filters should be cleaned and dried out at least 1-2 times per season. Remove the air intake vent covers and hand wash the particle filters with soap and water.
5. Clean the outside of the heater by wiping it with a damp cloth and buff with a dry cloth.
Storing: Allow Smart Heater to cool completely before storing. Store in a dry location. Do not place heavy items on top of Smart Heater as this may result in possible damage.
Create a ticket on our Support page. Our team is available to help, Monday through Friday, 9am to 5pm (EST)