Sharing Devices & Groups + Adding Members
If you want to give access to your smart devices to other family members, the easiest method is by sharing your account credentials. The Atomi Smart app allows multiple phones to be logged in simultaneously in one account. However, you can also share devices between multiple accounts by following one of the methods below:
Method 1: Sharing a device or group
This method allows the other user to control your smart device/group. However, any Smart Scenes related to your device will not be shared.
If you want to share your Smart Scenes + all of your devices/groups simultaneously, we recommend you to follow "Method 2: Adding Members to your Home" instead of Method 1.
Step 1: Open the smart device (or group) that you want to share and press the 'Edit' button ("Pencil" or "•••") at the top right corner of your screen.
Step 2: Press 'Device Sharing' (Or 'Share Group')
Step 3: Press 'Share This Device'
Step 4: Select 'Share with the Account Atomi Smart' and enter the email address of the user that you want to share your smart device / group.
Note: Before adding them, please make sure that they have already created their own Atomi Smart account
Step 5: Press 'Done'. You are now sharing your smart device / group!
Method 2: Adding Members to your Home
Another way to share devices with other users is by adding them as members to your Home.
If you have multiple devices and want to share all of them together with other user(s), please follow the instructions below. This will give access to all of your smart devices, groups & automations to the users that you want to share.
IMPORTANT: Make sure that all users have already created their Atomi Smart app accounts before starting this process. If not, please ask them to create their own account first, and then follow the steps below:
Step 1: Select 'Me' on your Atomi Smart app account. Then, press 'Home Management'
Step 2: Press 'My Home' (Or your home's name if already created)
Step 3: Enter a name for your home, and add a location (Optional). Press 'Save' and 'Done'
Note: You can also add Rooms to organize your smart devices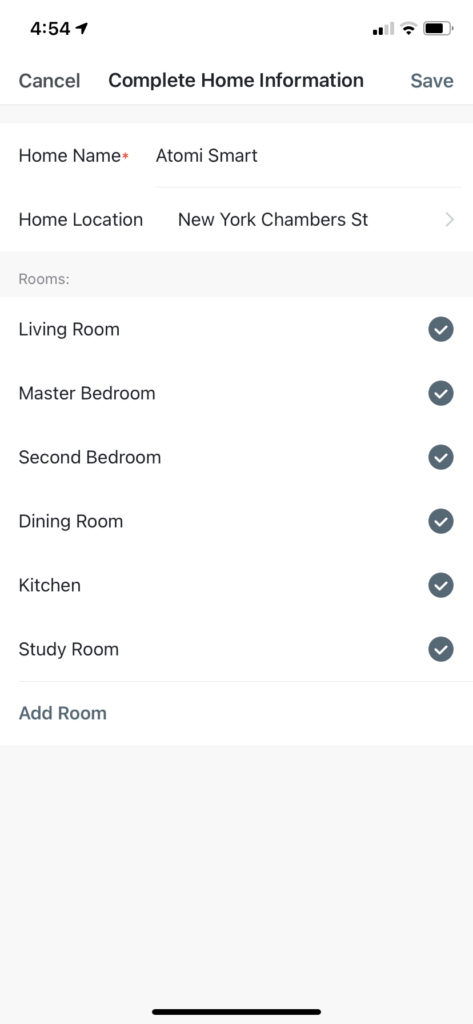 Step 4: Now select the home you've just created, and press 'Add Member'
Step 5: Select 'App account'
Step 6: Enter a name for the user, select the region (same as yours) and enter their Atomi Smart app account
(The email they've used when registering their account)

Select a Family Role and press 'Save'
Step 7: Congratulations! You've added a new user to your home and an invitation was sent to their app.
Now ask the other user to follow the steps below:

1 - Open their Atomi Smart app
2 - Go to 'Me' > 'Home Management' > select a home (it appears as 'Waiting to join...') and Accept the invitation
3 - You can now control all devices from your home
Create a ticket on our Support page. Our team is available to help, Monday through Friday, 9am to 5pm (EST)