WiFi Ceramic Tower Heater
The Atomi Smart WiFi Ceramic Heater warms the air in seconds with its advanced PTC ceramic heating technology. It's sleekly designed with a new, wobble-free base and tip-over safety switch for worry-free use on smooth or carpeted surfaces. Best of all, you can turn it off or on, set temperatures, schedules, timers, and more through the smartphone app or by voice command to Alexa or Google Assistant.
Get notified when this item is available
ETL Certified and with various built-in safety features, such as a tip-over safety switch, overheat protection, and cool-touch housing, the Atomi Smart WiFi Ceramic Heater is smart home technology at its best.
Customize your heating experience
You can condition the air in your home, exactly how you like it, when using the Atomi Smart WiFi Ceramic Heater. You'll also have peace of mind, since this heater is ETL Certified. Manually or remotely control your heater by using the Atomi Smart app with your smartphone, and get ready to experience the utmost convenience and maximum home comfort.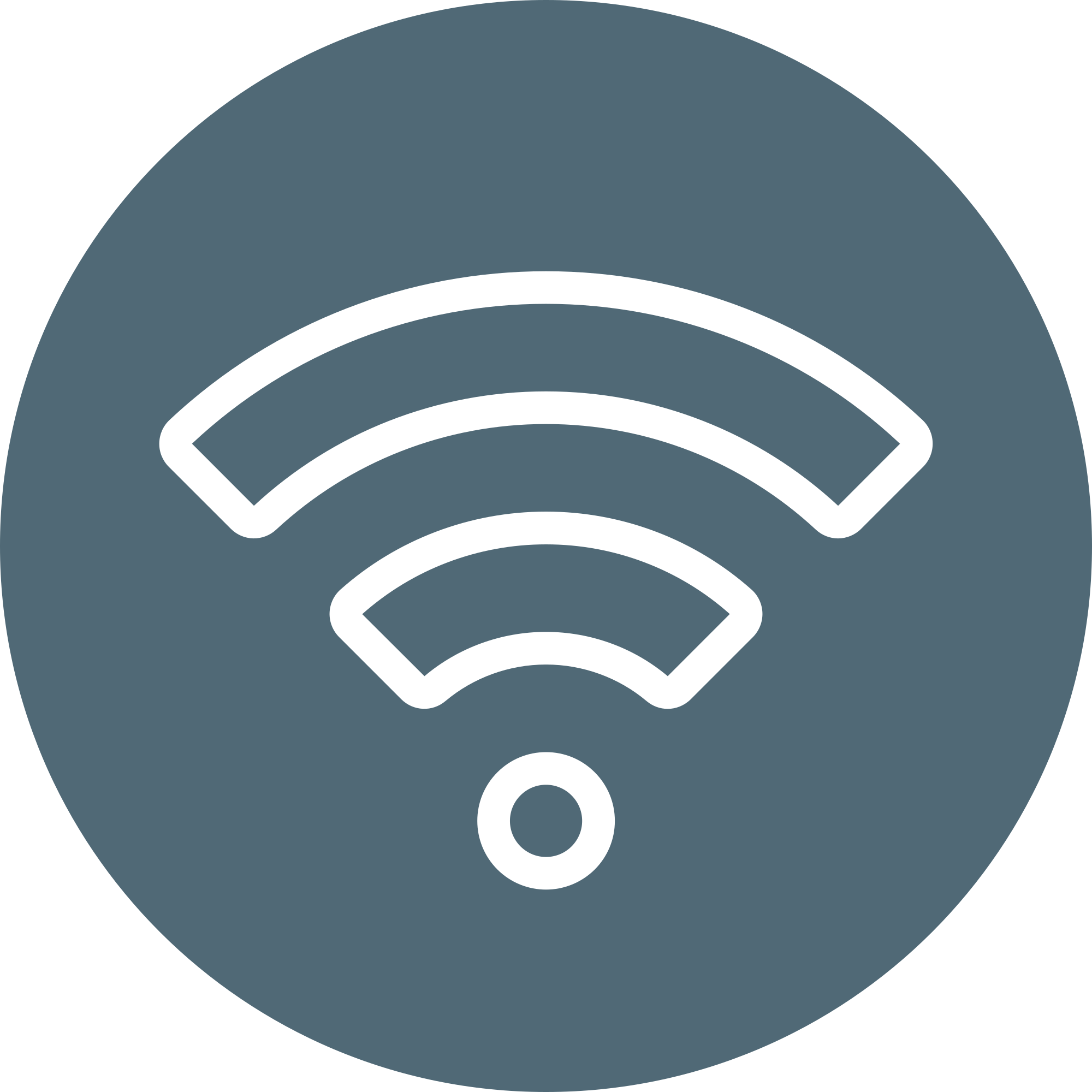 Wireless Control
With built-in WiFi connectivity, you can control this space heater through an app.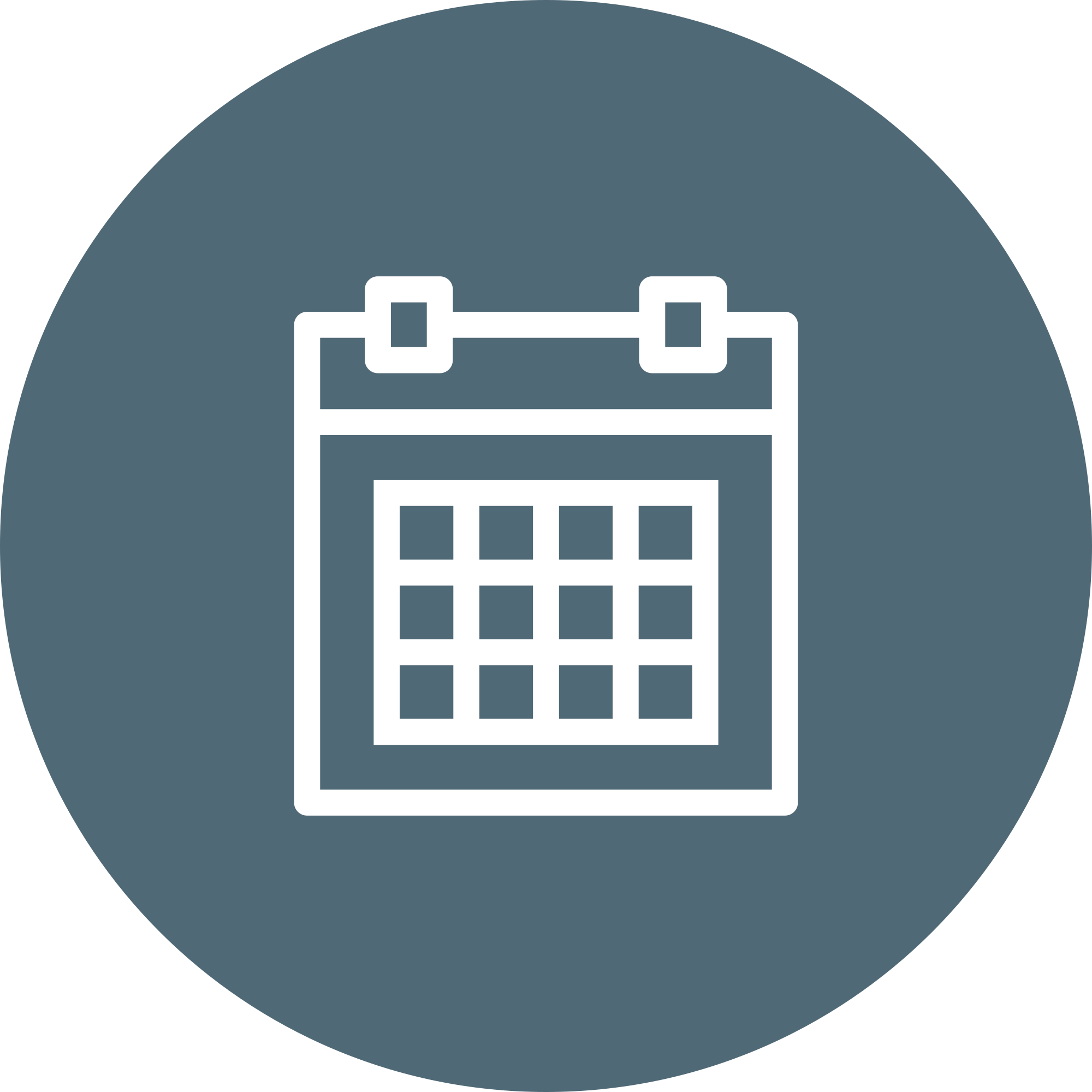 Schedule
Turn the heater on when it fits your schedule to save on energy.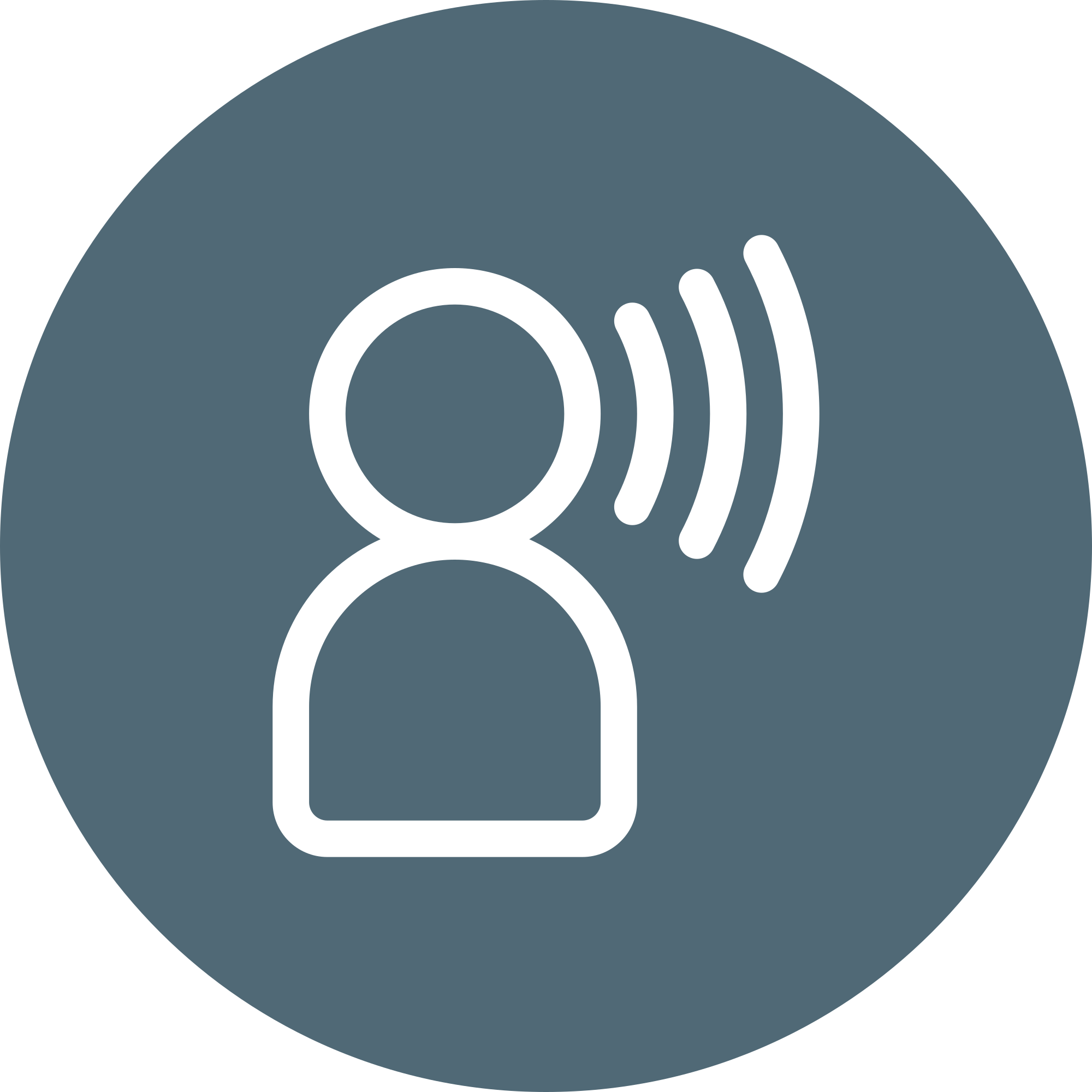 Voice Control
Compatible with Amazon Alexa and Google Assistant
Full Heater Control
Whether you've forgotten to turn your heater off or you want to come home to a welcoming warmth, the Atomi Smart WiFi Ceramic Heater gives you control from anywhere, over WiFi.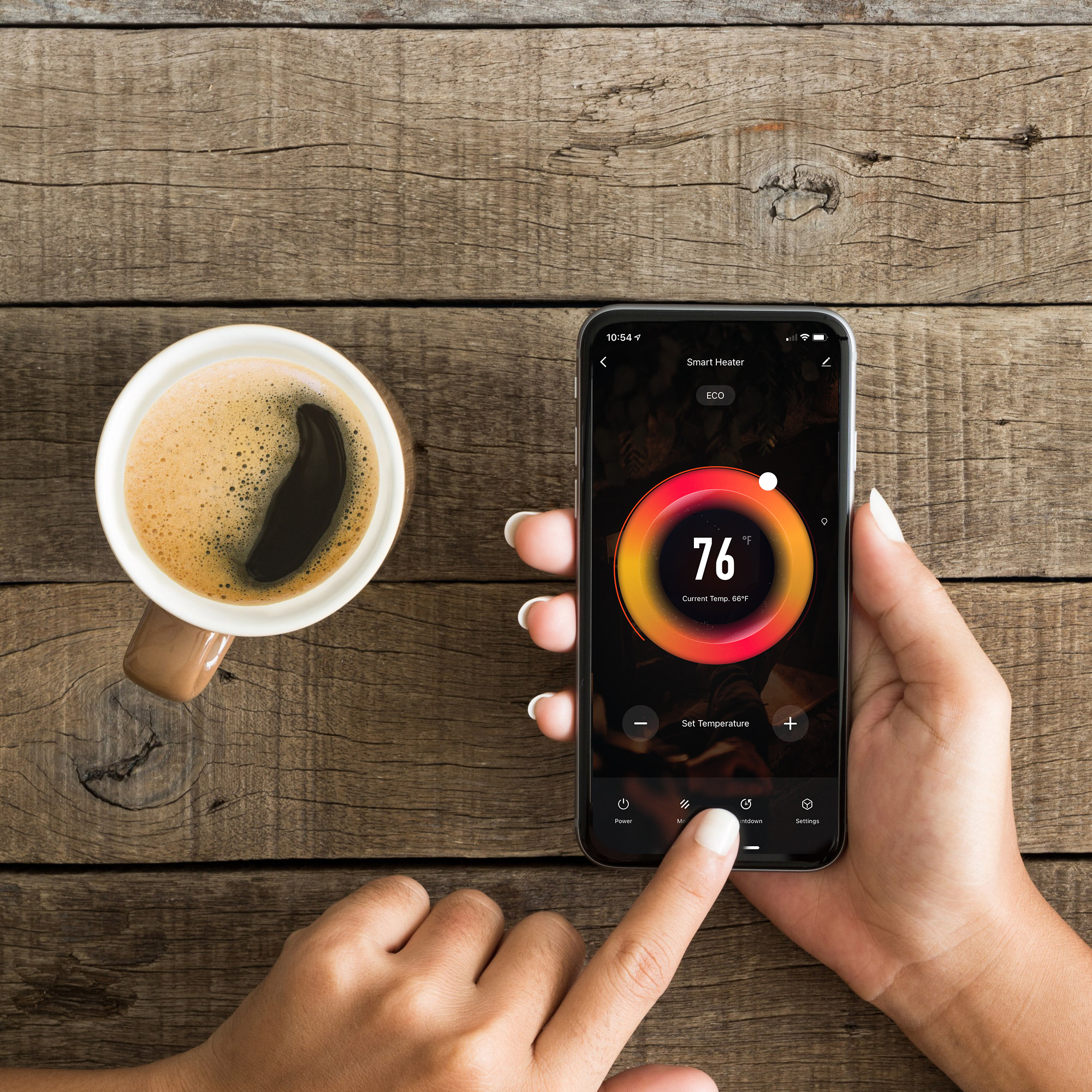 Scheduling Capability
Tired of coming home to a cold bedroom or living room? Set a schedule on your Atomi Smart ceramic heater so it can start heating the space long before you get there.
Voice control
Operate your Smart WiFi Ceramic Heater using simple voice commands to Amazon Alexa or Google Assistant.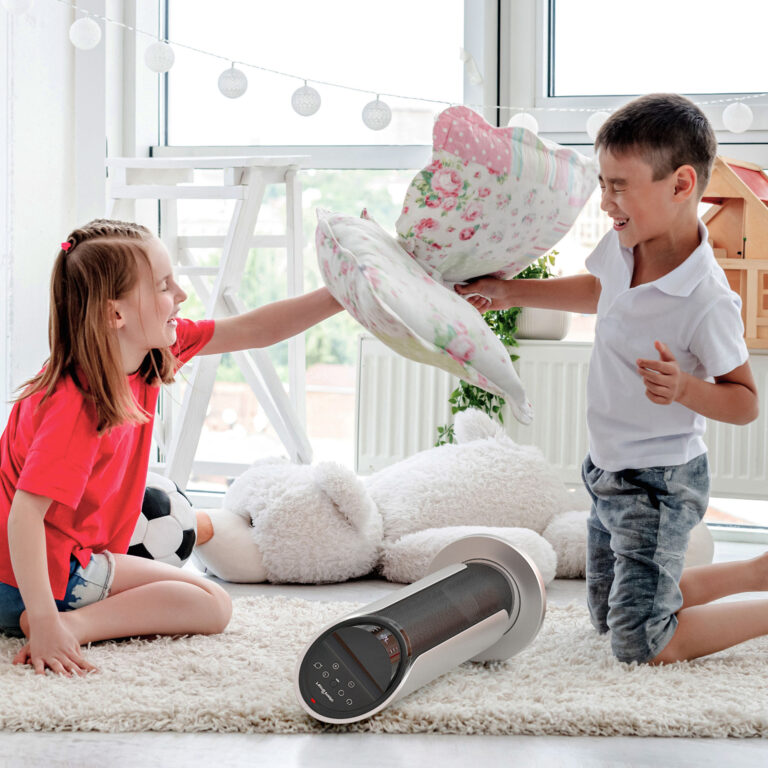 Heating modes & safety features
The heater comes equipped with three heat settings: low, high, and ECO mode. Plus, wide-angle oscillation evenly circulates heat throughout the room and shuts off once the air is no longer blowing. For added safety, a tip-over switch instantly turns the heater off if toppled over and sends a phone notification.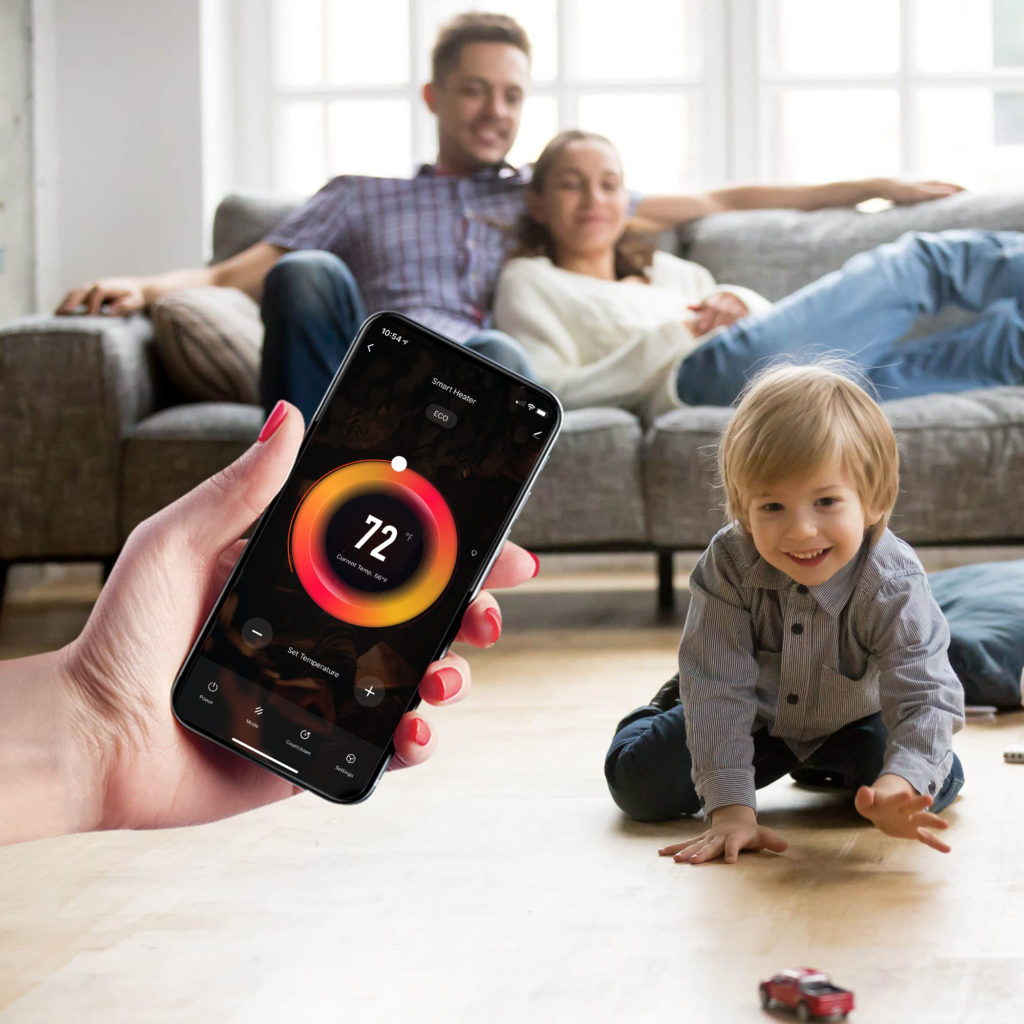 The Atomi Smart WiFi Ceramic Heater can be controlled through an app, which also displays the unit's status and room temperature so you can increase or decrease the heat as needed.
Atomi Smart App System Requirements
iPhone® 8 or higher and iOS® 8 or higher.Any previous iPhone® or iOS® may experience slower connections
Android™ 4.1x or higher
---
Device Compatibility
Amazon Alexa, Google Assistant
---
Connectivity


No Hub Required
---
Operating Environment
Indoor
---
WiFi
Only supported on 2.4GHz WiFi networks
---
Wattage
1,500 W (high heat)
1,000 W (low heat)
---
---
Heating Coverage
Up to 750 sq. ft.
---
---
Heating Element
Elongated ceramic (Self-regulating)
---
---
Delivery System
Fan-powered
---
Automatic overheat protection
Yes
---
Finish
Cool-touch exterior
---
Remote Access
Wi-Fi connected mobile controls
---
Filter
Permanent removable dust filter
---
---
---
Item Dimensions
25.7″H x 7.9″W x 8.4″D
---
Certifications
FCC, CE, RoHS Compliant, PROP 65 Compliant, ETL
---
Warranty
Three-year limited warranty from date of purchase against defects in materials and workmanship
Setting up your Smart Heater
Your Smart Heater is easy to set up, because we know some things should be stress-free
Description
The Atomi Smart Tower Heater can be used directly from the heater or connect the Smart Tower Heater using the Atomi Smart app to adjust settings from the palm of your hand.
Monitor and manage the temperature in your home. Set timers, or simply select the time of day you'd like to activate your heater
Customize your heating experience
ETL Listed
First-ever ETL listed smart products in the world. Now you know that the heater has gone through various tests to ensure your safety.
Wireless Control
The Atomi Smart app allows you to control the Smart Heater throughout your entire house, indoors and out, at the touch of a button.
Set Schedules
You can set weekly schedules that suit your lifestyle. Now your Smart Heater knows exactly the right time to turn on or off.
Preset Heating modes
Simply use the app and press to change from Low, High, and ECO modes and enjoy the perfect atmosphere.
Voice Control
Use simple voice commands to turn your Smart Heater on or off using Amazon Alexa or Google Assistant.
Set it and forget it
You can set daily schedules that fit your lifestyle. Your heater comes on and off when you want it to
Your heat is in your hands
Featuring a compact design, the Atomi Smart Heater can be controlled directly from the heater or via the Atomi Smart app. Monitor and manage the temperature in your home, set timers, or simply select the time of day you'd like to activate your Smart Heater
Additional information
| | |
| --- | --- |
| Weight | 9 lbs |
| Dimensions | 10 × 10 × 29 in |
Don't miss out on the latest products, giveaways, shopping advice, and tips