Smart home automation has become a global phenomena that changed the way people live, from improving to modernizing daily lifestyles. Atomi's smart technology creates a smarter home environment by combining science with technology for truly unique products. Integrate indoor and outdoor appliances to design the perfect Atomi Experience, personalized to suit your home and lifestyle. Smart color string lights, smart heaters, smart ceiling fans, and smart coffee makers are just a few products where you can experience the Atomi Experience!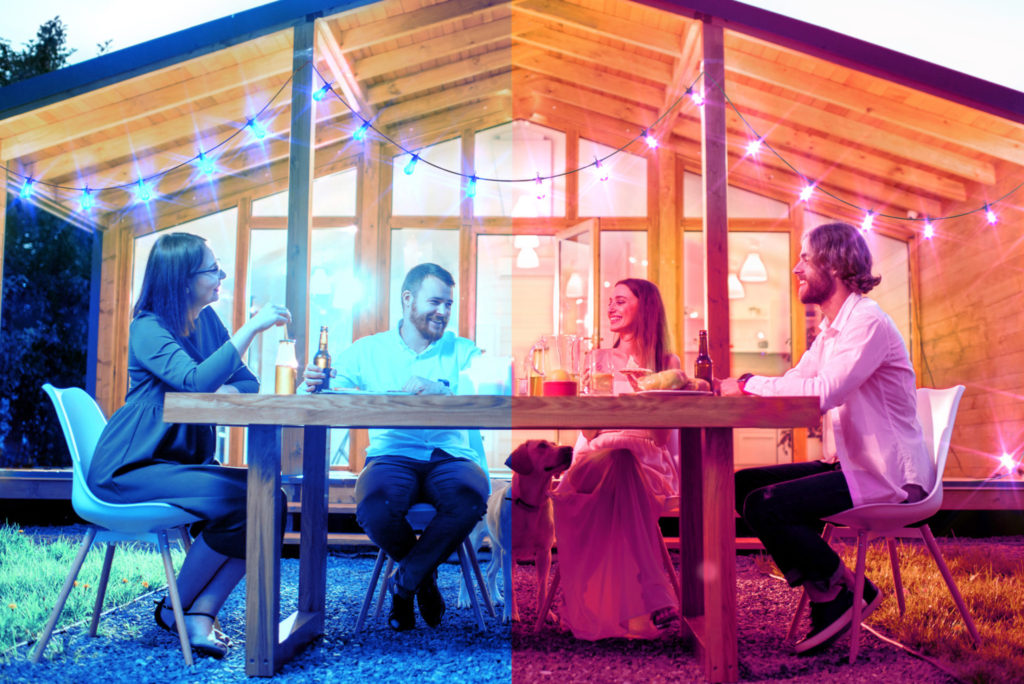 Outdoor string lights are versatile decorative objects that can brighten any setting, indoors or outdoors while producing a cozy and relaxing effect. String lights are mostly used for festivities, but why stop there? The Atomi Smart String Lights are highly versatile through smart home technology that can be used year-round! String lights are a perfect way to make outdoor relaxation more pleasant in the spring and summer, create a day-to-day cozy ambiance for indoor and outdoor settings, create a better ambiance for celebrations and other social gatherings, and lower energy consumption as an energy-efficient substitution to incandescent lightbulbs.
The Smart String Lights include the following features for easy usability and extra versatility:
voice control through Amazon Alexa and Google Assistant
mobile control through the Atomi Smart app
easy installation and can be linked with other string lights up to 1728 feet
choose between pre-curated color scenes
create custom lighting scenes from 16 million colors and shades of white lighting
create and set daily schedules of operation that suit your lifestyle
all-weather rating that is safe to use indoors and outdoors
LED chips provide up to 50000 hours of illumination, removing the need to change lightbulbs
Customize your Smart String Lights to create the perfect ambiance for any setting at home, whether it is for some relaxation or a celebration.
Are there rooms in your home that are always feeling brisk? Is there a draft you can't seem to remove? Here at Atomi, we developed several types of heaters from towers, tabletop, and wall heaters that differ in size but are the same with bold heating power. Heaters aren't just for fall and wintertime, but can be used year-round in evenings when the temperature dips and you need a little extra warmth to feel comfortable. Atomi considers rooms of all layouts, so there is a Smart heater just for you.
All Atomi Smart heaters includes app and voice control, automation through scheduling, three heat settings (Low, High, and Eco modes), a built-in tip-over safety feature, overheat protection, large touchscreen LED display, an easy-carry handle, and a digital display. With heating capabilities of up to 750 square feet and PTC ceramic housing, all Atomi heaters are designed with you in mind. The Smart Wireless Tabletop Heater is the perfect option for any counter or table such as a desk, coffee table, kitchen counter, and other flat surfaces to free up the floor space. The WiFi Ceramic Tower Heaters are the perfect choice for areas where the floor is the best option and can be used on carpeted or flat surfaces. The tower heaters include a wide-angle oscillation option that evenly heats up any room. The Smart WiFi Infrared Heater is the perfect option for a wall-mounting installation to free up floor and countertop spaces. Whatever layout your room has, there's an Atomi Smart heater just for you!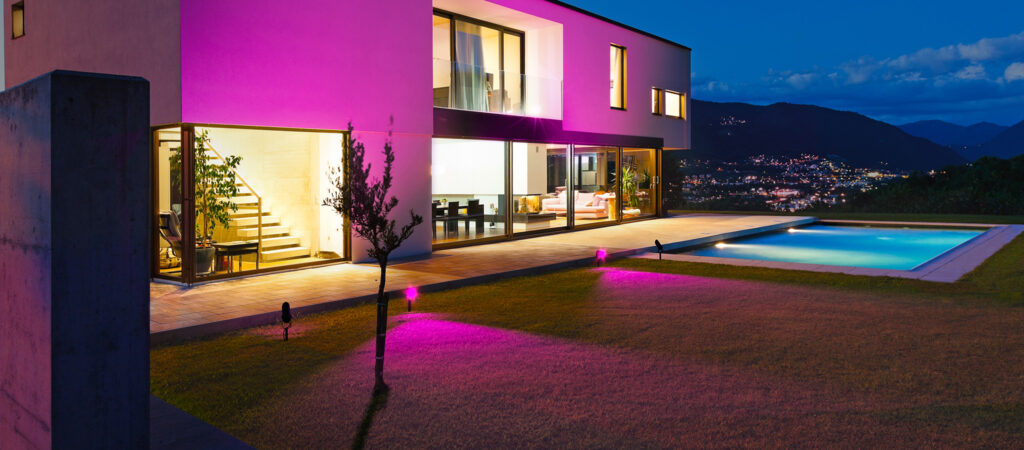 Keep your home in the spotlight with personalized lighting that can reach even the darkest areas around your home. Choose from stake lighting, wall sconces, or floodlights, where you can control the colors and other lighting options through the Atomi Smart app! Mix and link any Atomi Smart lighting where the possibilities are endless. Each smart light is compatible individually or together, so you can connect hundreds of lights and multiple styles. The Smart Pathway Lighting is a beautiful addition to front or back entrances by providing illumination for guests and family members as they approach. The Smart Wall Lights can be placed around the exterior of your home to light up multiple areas of your property for bursts of color or tunable white light.
The Smart Flood Light has incredible illumination for a single, large area such as above a garage door or to light up a backyard. Whichever smart lighting you choose, all of Atomi's Smart lights include the same functionalities: turning on/off smart lights, creating and setting lighting schedules, monitoring if lights are on/off, and more. All lights include voice control through Amazon Alexa or Google Assistant, built-in color schemes, dimmable feature, personalized choices from millions of colors, all-weather design, energy-efficient LED chips, and hassle-free installation. Say goodbye to overpriced, inefficient lighting and hello to smart, colorful radiance any time of the year!
Looking to control temperatures in your home affordably and energy-efficiently? Atomi's smart ceiling fans are an easy upgrade and are available in two lengths, 52 inches and 54 inches, depending on the size of the room. The Atomi Smart WiFi Ceiling Fan is designed for living rooms, kitchens, master bedrooms, and more! This smart fan has a 3-speed airflow and noiseless motor to let you sleep without interruption, optimizing comfort. The Atomi Smart WiFi Ceiling Fan uses only 18 watts of energy to produce 1500 lumens of light that last up to 50,000 hours–which means no more changing light bulbs. Encased in frosted glass, the light is fully dimmable and tunable between neutral, cool, and warm tones of white. Download the free, award-winning Atomi Smart app to operate the fan using your smartphone or voice commands with Google Assistant or Alexa. Using the app, you can set schedules and timers, adjust blade speeds, turn it off or on when you're not home, and more. Atomi's Smart Ceiling Fans are an excellent addition for rooms that need an extra breeze or better airflow circulation without the expenses that other cooling systems can cumulate.
You can now have light in the palm of your hand with Atomi's portable lights! The WiFi LED Portable Cubes and Smart Orb Lights bring ambiance to any setting, wherever you go. With a battery life of up to 6 hours and a lightweight design, these lights are the perfect companion to take on camping trips, pool parties, a BBQ, and more! An endless color spectrum and tunable white light range mean that your creative abilities are limitless. Select solid colors or color patterns such as green and red for Christmas, orange and yellow for autumn, red and pink for Valentine's Day, and more, with just the push of a button. Plus, these lights are rechargeable and compatible with Google Assistant and Amazon Alexa so that you can have hands-free control. Made from premium materials, these lights are designed with all-weather construction so that your light display is safe from the elements and will continue to glow despite the weather conditions. Both styles are waterproof and even float in the pool or a pond for extra lighting. Want more illumination for your display? Connect and program up to 100 portable lights while controlling them straight from your phone. Create the perfect mood lighting, indoors or out, for any moment with Atomi's portable lights, available in Cubes and Orbs!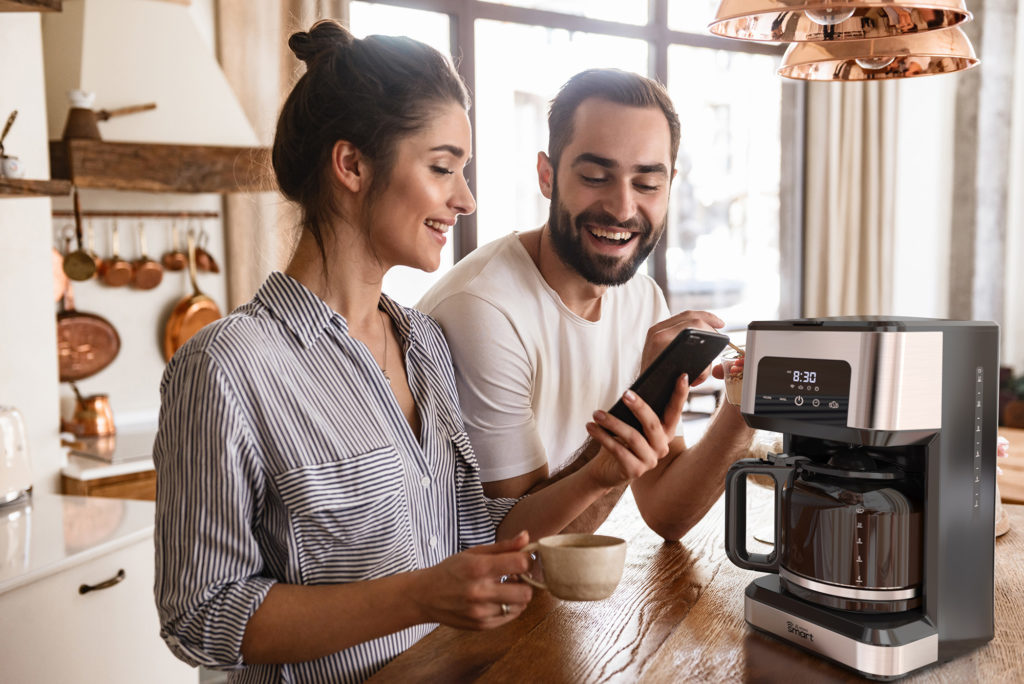 Have you ever dreamed of waking up to the scent of freshly brewed coffee? Now you can with Atomi's Smart Coffee Makers, available in 2 models but with the same brewing power! With programable abilities through the Atomi app and Amazon Alexa or Google Assistant, you can brew coffee anytime and anywhere. Personalize your coffee experience by controlling the brew strength, scheduling daily or weekly brew times, grind levels, and turning the machine on or off whenever you desire…even straight from your bed! Receive real-time notifications that are sent right to your phone the minute your coffee is ready and enjoy cafe-quality coffee right from your home. These coffee machines are also cost-saving and eco-friendly by including a washable, permanent filter that you can reuse again and again. Save money and lessen your carbon footprint by making coffee at home! Whether you have ground coffee or whole coffee beans, there is an Atomi coffee machine to match your daily grind.
The above products are some of our most popular choices about how Atomi's modern technology is helping people make their everyday lives more enjoyable and innovative. Whether you are waking up to freshly brewed coffee or controlling the smart string lights for an evening gathering, achieve perfect comfort in your home anytime you wish. Who says you can't combine style with technology? Create your dream smart home the Atomi way!