Remember spa days? Thanks to 2020, we could all stand to indulge in pampering ourselves a bit—even if it means staying home to do it. Using smart technology, there are ways to replicate salon-quality spa experiences. Imagine your bathroom constantly scented in citrus, ylang-ylang, and jasmine; with temperatures just right and soothing music playing softly in the background…
Atomi products make it easy to turn your ordinary bathroom into a relaxing oasis.
Let's start with the overall atmosphere of the room. To get things nice and cozy before you even walk in, the Atomi Smart Tower Heater is a must. This sleek, modern heater begins warming the air two seconds after turning on, with wide-angle oscillation to cover areas up to 250 square feet. If your bathroom is on the smaller side, try the equally powerful yet compact Tabletop Heater.
With the temperature just right, you'll want the Atomi Smart Aromatherapy Diffuser to amp up the charm. Simply add a few drops of your favorite essential oils to the water well and enjoy up to 9 hours of scented mist. The diffuser also has a color LED ring embossed into its attractive woodgrain design to paint the room in your choice of over 16 million different hues.
And the best part? You can control these smart gadgets with an app on your phone or by simple commands to Alexa or Google Assistant without ever having to leave the bubbles in your bath.
If showers are more your scene, ease into the massaging spray of the Atomi Bluetooth Shower Head. With 84 angled nozzles, it delivers a full-cover spray that makes every shower a spa-like experience. And wait until you hear the shower head's magnetic Bluetooth speaker. It delivers crystal-clear audio and six hours of playtime on a single charge.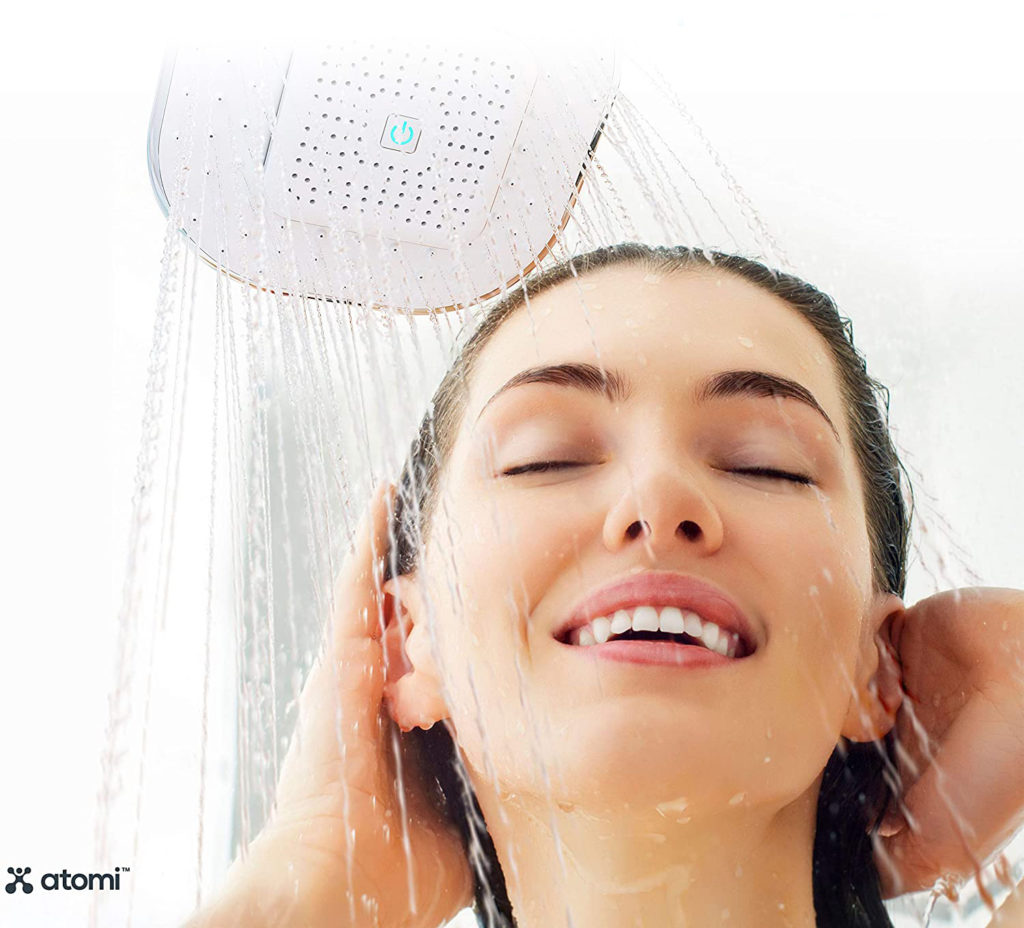 End every spa session in front of the most flattering mirror you'll ever find: the dual-sided Rechargeable Vanity Speaker Mirror. The vanity is designed with a 7x magnification mirror side and bright LED lights to show true-to-life details. It's perfect for skincare routines and applying makeup. There's also a Bluetooth speaker that allows for hands-free phone calls up to 33 feet away.
Truly, the only thing you'll be missing from an actual salon experience is the large bill that came at the end. So whip up a pitcher of crisp cucumber water, start compiling your spa-day music playlist, and order these products quicker than a volcanic ash clay mask can set on your face.