Enjoy the summer months outside with the perfect ambiance using Atomi Smart's multiple lighting options! From BBQs, birthdays, parties, or simply basking in the warm weather, Atomi is there for all of your lighting needs. With Atomi's Smart technology, you can link up to hundreds of smart lights to perfectly caption your vision and browse through millions of colors. Our light fixtures use LED chips which are more energy-efficient than an incandescent bulb and last up to 50,000 hours! Lighting should be simple, that's why our smart technology is efficient and hassle-free, giving you more time under the sun.
Connect unique lighting options using the Atomi Smart app
What better way to keep your home in the spotlight than by creating a personalized lighting ecosystem? Choose from stake lighting, wall sconces, floodlights, string lights, orb lights, or cube lights, where you can control the colors and other lighting options through the Atomi Smart app! Mix and link any Atomi Smart lighting where the possibilities are endless. Each smart light is compatible individually or together, so you can link and connect hundreds of lights and multiple styles. Our app includes features such as turning on/off smart lights, creating and setting schedules, monitoring if lights are on/off, and more. Whether your lights are outdoors or indoors, control them all through the Atomi Smart app, wherever you are.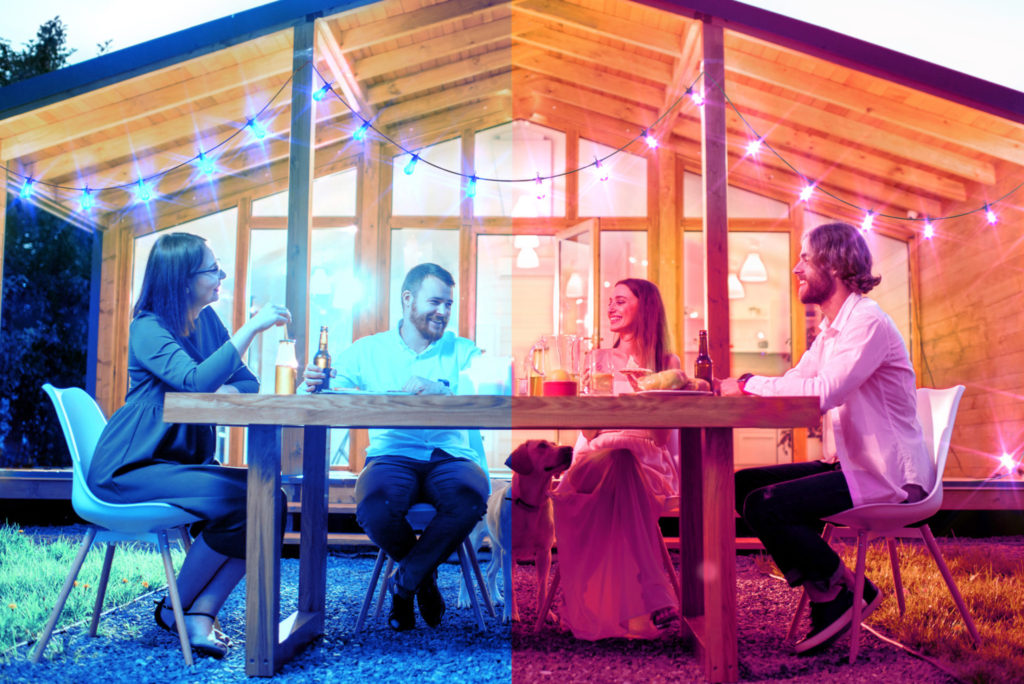 Color your world the way you see it
With ambiance at your fingertips, set the right mood with white lighting or have fun with playful colors. Select and enjoy 16 million color hues and white light options right from your smartphone and never have a dull moment again. Atomi's Smart lights include built-in special effects so you can bring your lighting vision to life. Choose from a twinkling feature, two-color combinations, a rainbow fade, and other pre-selected color schemes to add extra brilliance to your light display.
Most of Atomi's Smart lights include the following pre-set scenes:
Night – Changes light to warm white for nighttime settings
Read – Changes light to neutral white
Working – Changes light to cool white
Leisure – Similar to the "Read" neutral white, but with less brightness
Soft – Light slowly turns on/off (Green as default)
Colorful – Light flashes between different colors (Default: Red, Green, Blue, Yellow, Cyan, Purple)
Dazzling – Light flashes between different colors (Default: Red, Green, Blue)
Gorgeous – Light fades between different colors (Default: Red, Green, Blue, Yellow, Cyan, Purple)
We encourage individuality and creativity, that's why all of these preset effects can be customized with different colors and animation speeds as you wish.
For extra color options, Atomi's Smart String Lights include these additional customizable features:
You can create your color combinations and animated scenes.
You can set the color and brightness for each bulb. You can also turn off individual bulbs.
You can mix white/color bulbs on the same string light. Some bulbs can be set to white, while others are in colors.
Color pickers to save favorite colors.
Do Not Disturb feature so light remembers the last status during a power outage. If the light was "OFF" it will stay "OFF" when power is back.
Integrating voice control with Google Assistant and Amazon Alexa
To help create that perfect lighting ecosystem, Atomi integrated voice capability for easy control of your lights. Besides using the Atomi Smart app, Amazon Alexa and Google Assistant are also compatible with any Atomi Smart lighting so you can use simple voice commands to control your lights, hands-free! Set daily or weekly schedules to automate your lights for convenience and keep your home the star of all the neighborhood parties.
Secure your home even when you're not there
Whether you're at work, enjoying a vacation, or going on a night out, control your lights with the Atomi Smart app to create the illusion that you are home. Remotely turn the lights on or off throughout the day for added security, or set a weekly schedule to automate your light settings. Create a "Vacation" automation to turn the lights on/off at different times throughout the day so it looks like someone is still home. Didn't turn that light on or off? The app allows you to receive notifications regarding your lights turning on or off and the amount of time they have been on or off, even when you are across the city or traveling the world. Secure your home and yourself with ultimate control and monitoring of your lights, wherever you are.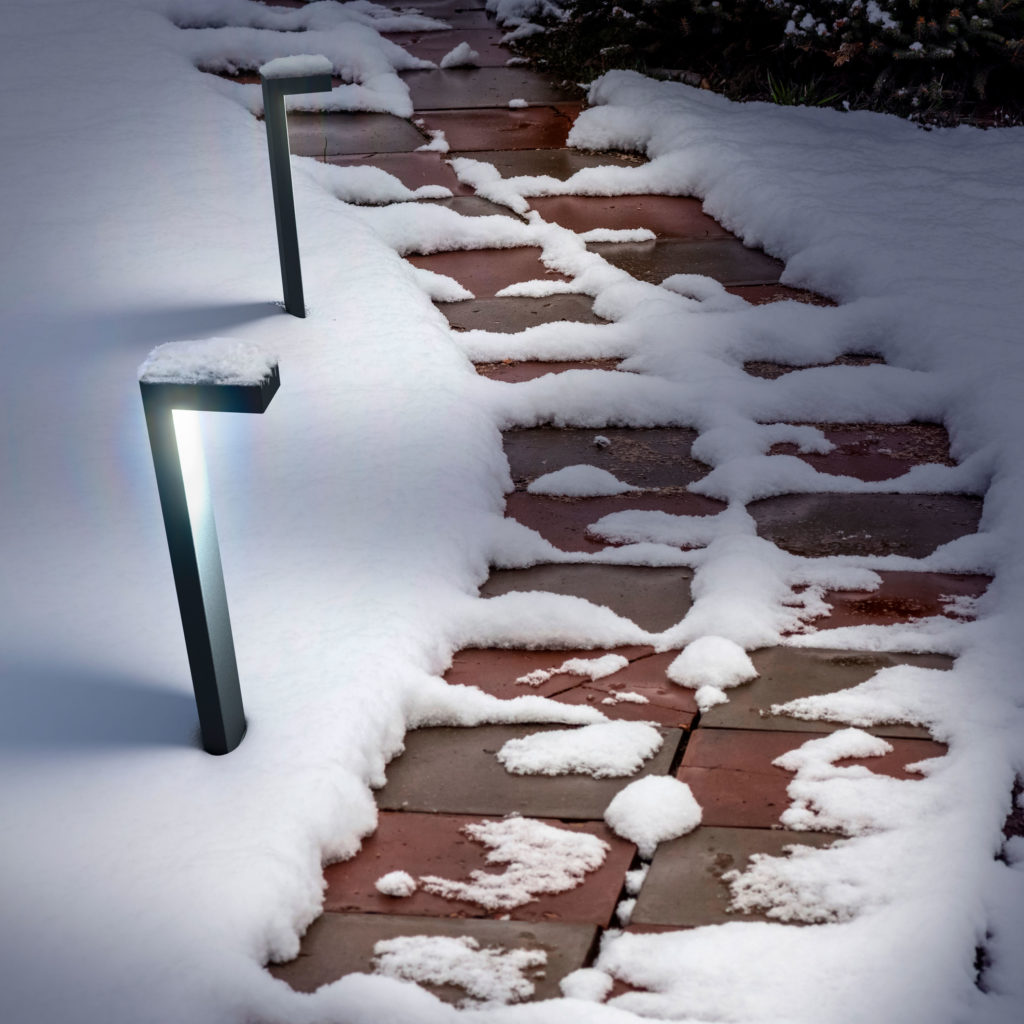 Engineered with all-weather design for year-round color
Did you know that all of our lightings include an IP65 all-weather rating? This ensures that despite the weather conditions, your lights will be safe and functional in even the harshest of rain or snow. The stake lighting, wall sconces, floodlights, and string lights are all designed with premium aluminum housing to protect against the elements, while the Smart Cube and Smart Orb Lights are made from durable, waterproof materials so they can even be used in the pool! Pool parties just became a lot more colorful.
Safety features designed by Atomi
At Atomi, we keep safety at the forefront of our design. No matter how long your Smart lights are on, they will always be safe to handle. The string lights are made out of PVC, meaning that each bulb is safe to handle, even after 24 hours of continuous use! All other Atomi Smart lights use LED chips instead of bulbs, so any lighting choice will never be hot to the touch. Additionally, all lighting options have the feature to create schedules that automate light usage for specific times. For example, you can create a schedule to turn off all outdoor lighting at 1 AM. This means that you can "set it and forget it" without wondering if the lights are powered on the whole night. Not only does this feature provide additional safety, but it also helps you reduce energy!
Smart lighting anytime, anywhere
Whether you are looking to add some brilliance to your home's exterior, create ambiance for a special event, or enjoy the summer evenings outdoors, mix and match any of our lighting options to create the perfect lighting ecosystem just as you envision it. From millions of colors to white lighting, you can create your unique color combinations and scenes designed by you! With up to 50,000 hours of spectacular illumination and hassle-free installation, all of our lights are designed with you in mind. Say goodbye to overpriced, inefficient lighting and hello to smart, colorful radiance any time of the year!
Shop your favorite lighting options here and design a unique ecosystem that fits all of your lighting needs.